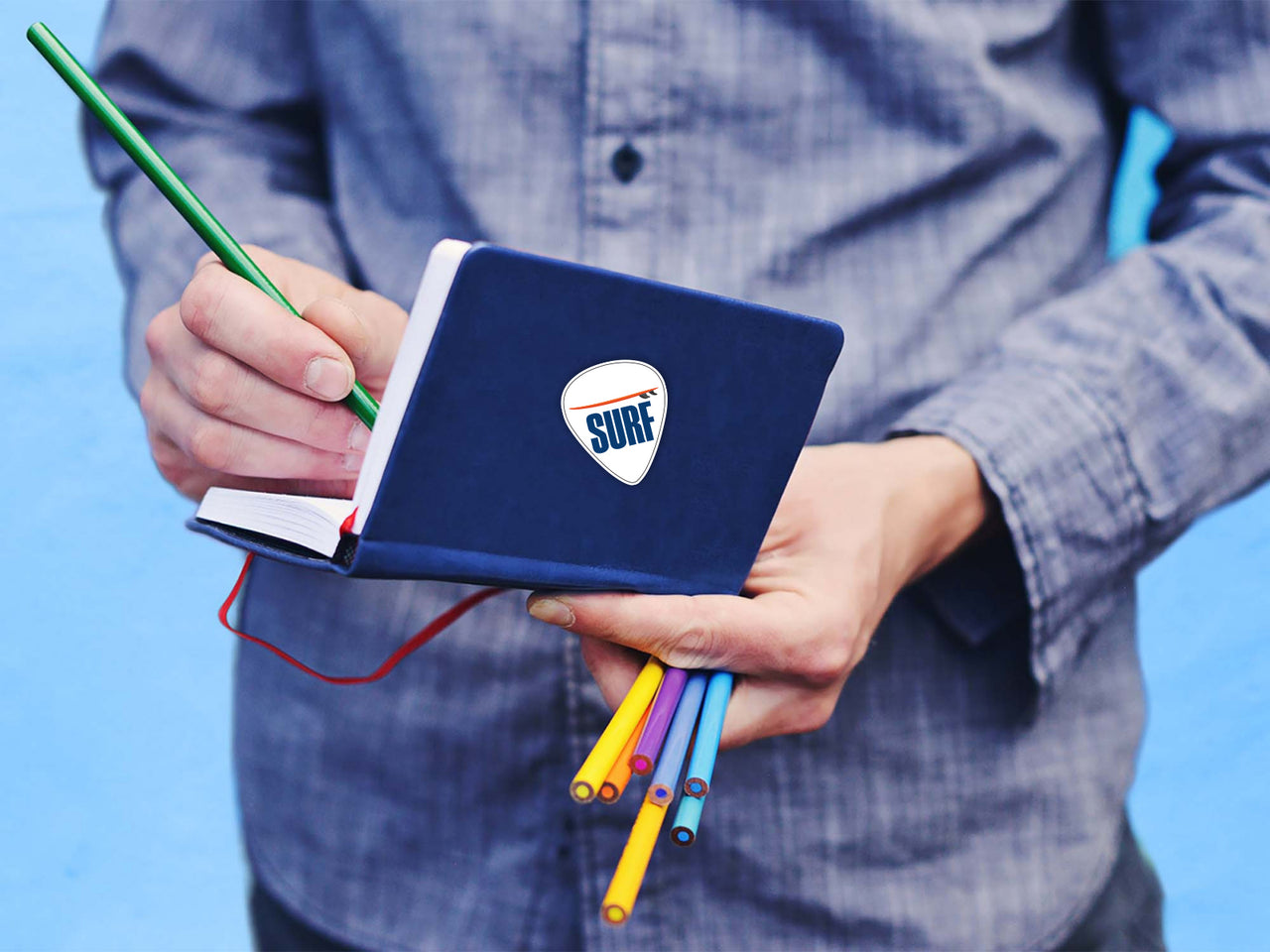 SURF GUITAR PICK STICKER
DESIGNED TO FILL AN IMPORTANT NEED IN YOU LIFE
What to do when you're between playing guitar with your official surf pick?  (We might add here that if you play 1960s Fender Mustangs you probably feel an even greater need to be playing than say if you were to have a misplaced longing for a Big Jim's Discount Wonder Strummer. )
Anyway, the answer of course, is to think about playing your guitar and what better way to think about playing than to be reminded by a liberal application of our Official Guitar Surf PIck Stickers.  Yes, you heard it right, now you can slap a sticker replica of our famous surf pick on your laptop, guitar case, bumper of your vintage Ford Country Squire, window of your 1981 Mercedes 300td or even some lesser cars to mentioned here or allowed to park in our parking lot. 
DON'T IMPRESS YOUR FRIENDS
Your friends will not be impressed by your sticker, but who cares?  We don't, and you don't, so purchase away.  However, it is well known that professors will grade students higher that have Surf Pick Stickers on their rusted coaster brake beach bike. 
DESCRIPTION
A vinyl sticker.  Shaped like and the size of a guitar pick.  With an orange surfboard.  And, that peel and stick thing on the back that is so much fun to take off unless your fingers are grungy and you get grunge on the sticky backing part, and then it won't stick properly to your hippie van window (order several).
SPEED TESTED
We've tested these rascals all the way up to a mind-bending 75 mph, and they STILL CONTINUE TO HANG IN THERE.
Since we are obsessed with good design, we sweated the leading, kerning pairs, balance, proportion, color and general overall vibe of our creation for darn near 5 minutes before slap
.
LIMITED EDITION
Remember kids, we ordered these for ourselves, they are private stock, you are digging into our secret, semi-not-exclusive stockpile, however, we don't need a lifetime supply, and now you can share in the bounty by ordering one (or a dozen) of these beyond cool masterpieces for yourself.
We guarantee our Surf Pick Sticker:
*  To work in all 50 state and most Pacific islands.
•  To look cool.
•  To be a perfectly proportioned one size fits all.
•  To not work on the bottom of Boston Whaler boats kept in salt water.
•  To be free of gluten.
•  To not work as a postage stamp (though many have tried).
•  To look cool on your mic stand exactly 6" below your Shure SM-58 mic with dented windscreen.
•  To be owned by exactly ZERO professional jugglers (that we know of).
•  As all our products, to be our overpriced and under-appreciated.
USES
Camping water bottle, surf wagon, L-39 cockpit panel, candelabra enhancer. and much, much, much more.
Seriously, these picks are the best thing since sliced bread (not the band).
Faithfully submitted,
B.A.M.