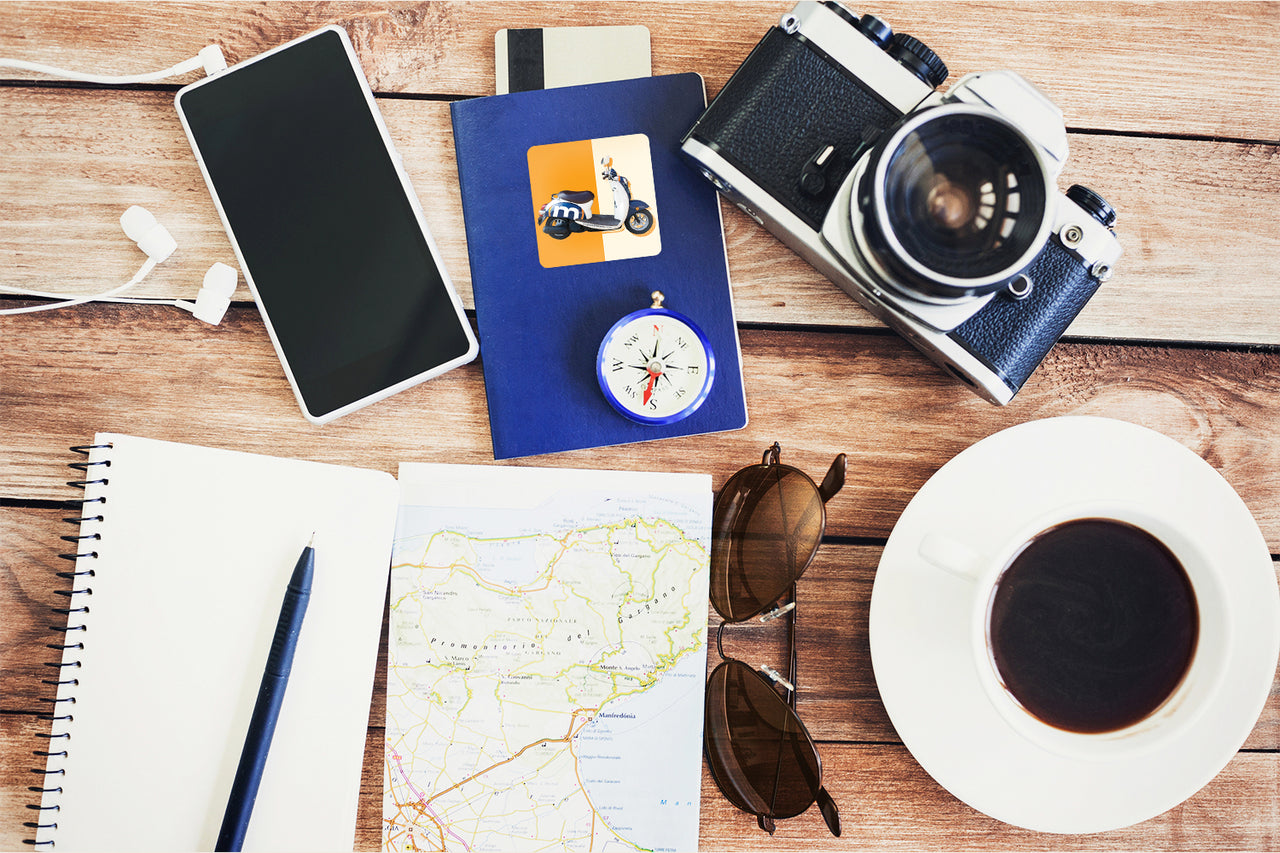 OFFICIAL TMG
MOTO SCOOTER STICKER
THE OFFICIAL TMG HONDA METROPOLITAN DELUXE SPEEDOMATIC GROOVEMASTER 2002 SCOOTER STICKER FOR CONNOISSEURS
ARRIVAL DAY - THE EARLY YEARS  It's with teary eye that we recall when 'Moto' our beloved 2002 Honda Metropolatin scooter came into our life.  We nourished the little guy back to full mechanical health and quickly bestowed the name  'Moto' and our super deluxe graphic package, because a monogrammed thing is a good thing.
BONNEVILLE SALT FLATS SPEED TEST FIASCO
We all know that a good vinyl logo package slapped helter skelter onto anything will make it go faster.  So SAFETY FIRST KIDS, we donned our Nomex underwear, socks, triple layer Sparco race suit, gloves and Bell full face racing helmet.  Out in the studio parking lot the ground crew hovered like bees around Moto as it sat chomping at the bit to unleash its 50cc stock power on the world.  Tires were filled with nitrogen gas, fluids checked, throttle revved and soon the first trial speed runs ensued up and down the street to a round of nonplussed forced applause.  
Discussion soon turned to setting the world land speed record for a stock 50cc Metropolatin Scooter at Bonneville.  Preparations were made then a glitch in the paperwork with the world governing body caused a small scandal involving movie distribution rights and toy licensing profit distribution so we never actually went to Bonneville.  Moto still awaits the challenge.  We'll keep you updated.
DESCRIPTION
It's a vinyl sticker.  About 3" square with approximately 1/4" radius corners.  What else can we say, it's possibly the finest graphical depiction of Moto to ever be designed. We get choked up just thinking about it.
STREET TESTED
This sticker has been put through a punishing round of field testing attached on the back windscreen of the studio Range Rover.  INCLUDING surviving an epic hail storm in the parking lot of Home Depot that pummeled lesser stickers to threads.  It has also been subjected to bird calling cards, harsh car wash chemicals, scraping tree branches and jealous looks.  We're happy to report this rascal is full of vim and vigor (that would be ebullient vitality and energy to you and me) and appears good for another few thousand miles of road wear.
WAY LIMITED EDITION
You need this sticker.  We only commissioned a few to be custom printed and the staff has been sticky handing a good amount out of the pile, so order early and order deep.  Somebody has to pay for these puppies and we think that should be you, the discerning eye consumer/fan/TMG design fanatic and lover of all things cool.
We guarantee our MOTO Scooter Sticker:
*  To work in 49 of the 50 states and most Polynesian islands.
•  To look cool.
•  To be cool.
•  To increase your popularity on Instagram.
•  To not work as a inner tube patch on you beach bike.
•  To be free of harmonic vibrations (special dampening ink was used).
•  To get you invited on stage at Bhakti Fest.
•  To get you semi-free admission to The Hampton Classic.
•  To look perfect on your vintage Jeep Grand Wagoneer rear window.
•  To be the perfect companion to watching The Talented Mr. Ripley scooter scene (those show off Vespas). 
•  And, as with all our products, to be our overpriced and under-appreciated.
USES
182 loosely documented uses.  And, six things you SHOULD NEVER DUE with the sticker.
Faithfully submitted,
B.A.M.